Fixi srl was founded in 1984 offering since the beginning a wide range of products at very competitive quality/price ratios.
The technical sales team supports customers in choosing the most appropriate fastener for each application, aimed to minimize labour costs and installation times which are particularly onerous for companies.
Fixi products of national, European and extra-European origin are subject to rigorous selection processes carried out by the technical team that constantly controls and checks the quality of all items included in the catalogue. Several times a year, key suppliers are visited and audited to monitor and ensure the quality standards required by the increasingly demanding market.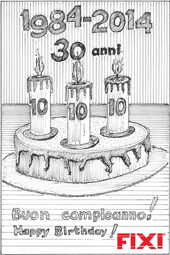 Fixi product range is used in the main industrial areas concerning the processing of sheet metals, plastics and solid components (copper, aluminium, brass, steel).
Listed below are the main products used in the following industries:
sheet metal processing:
- Threaded Inserts
- Blind Rivets
- Clinching Fasteners
- Welding Studs
solid component processing:
- Self-Tapping Threaded Inserts
- Wire Inserts

plastic processing:
Brass and Stainless Steel Inserts and Studs
In addition to standard items, customized products can be developed and supplied on demand according to customers' specifications addressed to satisfy all fastening requirements.
Contrary to the market trend, Fixi Group firmly believes in localization which explains the many branches spread across the country.
In the fastening system industry, Fixi believes that full customer satisfaction is to be sought in localization.
For this purpose, the Fixi Group organization offers the highest quality level in terms of quick replies, accuracy, professionalism and technology.
This is widely confirmed by the numerous approval certificates from important Italian and foreign industrial groups.
The success and achievements gained by Fixi group in all these years is not considered an arrival point but a sound basis to offer a constantly improving customer service.